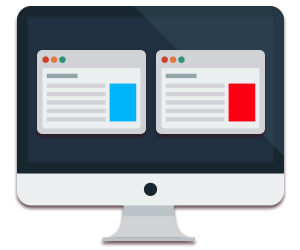 Dedicated landing pages convert at much higher rates than home pages.
A targeted landing page design that is crafted to encourage the user to take a specific action is crucial for improving your ROI. By driving your paid advertising traffic to a landing page that is created for a specific offer you will have a higher conversion rate than driving traffic to a traditional homepage.
As business owners, we have to remember that a homepage or website is designed to educate your visitor about your brand, service, product, values, and mission. It Is not designed to encourage the user to take a specific action like a landing page has been proven to do.
At Think Conversion Rates, we use a combination of experience and scientific testing to provide us the data that we use to make educated decisions. This data helps us identify what improvements and changes we believe should be made to the copy, design, layout, value proposition or offer. By taking advantage of our experience you will see tremendous improvements to your conversion rates, translating into a higher return on your investment.
Why landing pages?
Increase your paid advertising ROI
Increase sales
Improve lead generation results
Increase email subscriptions
Let's start improving your conversion rates today with custom landing pages designed for your campaigns.
Increase Your Conversion Rates Today
We love to share our design work, and we respect our client's privacy.
Send us a quick note and we will send you a pdf of our most recent work.
Request Design Examples